Sol & Luna Intercultural School
Children are our main motivation and daily concern due to the serious deficiencies of the Educational system in Peru. Our commitment as active members of this community is to create and encourage opportunities for a better future for our children.
Our job focuses on improving education levels, promoting sports among the children and motivating artistic and cultural vocations. These efforts are made possible with the benefits from Sol & Luna and the social sensibility of businesses and contribution of friends.
The Sol & Luna Association is formally registered in Public Registries in Lima, record 12106812 and before SUNAT with RUC 20518740050. It is represented by Mrs. Petit Miribel, promoter of this institution.
Sol & Luna School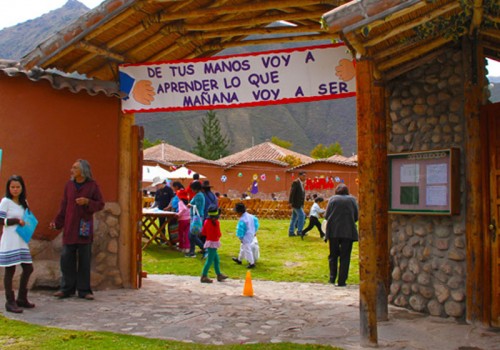 The Sol & Luna Association has been able to materialize one of its most important projects: a multicultural school with an inclusive philosophy that offers children in Urubamba the option of comprehensive education, instructive and creative, that will allow them to competently insert themselves in a globalized world.
The Sacred Valley of the Incas is inhabited by different human groups: some are rooted by generations, some move about temporarily, some foreigners adopt this land to live in, tourists visit us every day and people migrate from nearby communities or other provinces. We should all learn to coexist and enrich our lives with the fusion of cultures and development of tolerance.
With this in mind, a dynamic education system is provided, complemented with plenty of space and time to laugh, play, share and communicate freely. Our kids are also part of a nutrition and health program to reinforce this process. Our values are cultivated in different workshops such as arts, theatre, circus, painting, music and excursions to enjoy nature, languages and computers.
Our goal is to awaken the child's interest in diverse activities and provide them with the support to develop this interest. Each classroom has a group of no more than 15 children and we currently hold groups for 3, 4 and 5 year-olds, as well as Kindergarten, Primary School and First Year of Middle School with a total of 135 wonderful kids!
Our children
The great majority of these children come from nearby communities with little or no means of support and in some cases some are in a state of material and moral abandonment. Their only chance for a dignified life falls on their access to a good quality education.
This initiative is currently in a developing and growing phase and aims to provide higher education levels to young members of our community, in order to make them professionals in tourism and hotel management.
90% of the students that attend Sol & Luna Intercultural School receive either a partial or comprehensive scholarship. In order to finance these scholarships, we receive aid from 'padrinos' (sponsors), who provide a donation of US$3700 a year, amount that will cover the costs of education, meals, hygiene and health care of a child. However, every help, every donation is always welcome and appreciated. This sponsoring program does not involve further care and a moral relationship with the children; being an anonymous program, it protects every child's self-esteem without a specific benefactor.
Donations
To directly contribute with Asociación Sol & Luna, please use one of the following bank accounts:
Banco de Crédito del Perú
Beneficiary: Asociación Sol & Luna
Soles : 285-1901396-0-06
US$:  285-1901121-1-39
SWIFT Code: BCPLPEPL
The Sol & Luna Association is formally registered in Public Registries in Lima, record 12106812 and before SUNAT with RUC 20518740050.
Sol & Luna Association is recognized by the Economy and Finances Ministry of Peru as recipient of donations and authorized to issue donation certificates for tax deduction purposes.
Videos
Inclusion Miracle – Programa Punto Final
Inclusive education – Frecuencia Latina
Visit to communities
Sharing in the "Niños de Jesus" Home
Closing the school year 2012
"Education is the most valuable legacy parents can give to their children"
Sol & Luna Intercultural School Urubamba – Cusco.
Movil:+51 984700272
petit@colegiosolyluna.com<